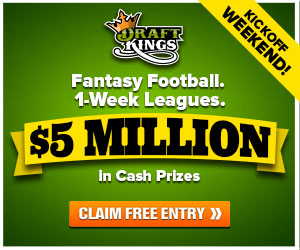 Adam Stoczynski
Bitter Chicago sports fan, wagering enthusiast, self-proclaimed sports expert
@AllAboutSto on twitter
As the weather gets cold, fantasy football is really heating up. Week 12 is here, and with only two weeks left for most of us before the playoffs, everyone wants to win out. Not much backstory this week, it's pretty simple, "Just win, baby." Here's the week 12 sit/start. Let's go.
Matt Ryan vs CLE – Have you given up on him? I'm giving him one last chance. You know he hasn't played at home since October 12th vs the Bears? Yea, that was week 6. I know he hasn't thrown for more than 2 touchdowns in a game since week 4. I know he hasn't thrown for more than 300 yards since week 5, but I don't care. The falcons are in, hehmm, first place in the South, and I think they finally come to play in week 12.
Tony Romo @ NYG – This should be the best he's felt all year. He's coming off the bye and the Giants have just gone off the rails. They are pretty banged up and have no one that can matchup with Dez. Romo will have a good week, and quite frankly a good rest of the year. Phi, @Chi, @Phi, next three.
Isaiah Crowell @ ATL – A roller coaster year as far as a value and production goes. He was up, he was down, he wasn't drafted by anyone, then he was added heavily, then dropped, he was added again, probably traded, and now with the departure of Ben Tate his value is at an all-time high. He will be in a time share, but is the starting back in a run heavy offense. He is also playing against one of the worst run D's in the league. Start him with confidence. Terrance West isn't a bad option here either.
Jerick McKinnon vs GB – Again? Yes, again. I can't seem to shake him. I don't know what the Vikings are waiting for. He was primed for a big week, but after the first couple of series' they went away from him. GB is awful vs the run giving up nearly 140 rush yards per game. He has to FINALLY get in the end zone this week, or I am finally giving up on him.
Reggie Wayne vs JAX – Earlier in the year Indy lost to Philadelphia. The next week they went to Jacksonville and pounded them 44-17. Luck threw for 370 yards and 4 touchdowns that game. I think history repeats itself here. The Colts are going to come out ticked off and roll to a victory at home. Wayne has been involved a lot lately and should reap the benefits once again in week 12.
Brandon LaFell vs DET – Going to be tough to run on Detroit and there will be a lot of attention on Gronk. I think this is one of those weeks where it's LaFell's turn to have a big game. Only 4 targets last week, but had 24 targets combined in weeks 8 and 9. Always a risk because no one ever knows who "the guy" will be in New England, but this week I'm gambling on LaFell.
Keenan Allen vs STL – He had 13 targets last week vs Oakland, but did not do much with them. The Rams secondary is nothing scary and I think they come back down to earth after the upset vs Denver. San Diego has to bounce back at some point to the team we saw earlier in the year don't they? I'm going to bet Keenan gets in the end zone this week, for only the second time this year.
Josh Gordon @ ATL – I don't necessarily love him this week and I only threw him in here because there will be a lot of wondering what to do with him. He's supposedly going to be on a pitch count, and I don't know how much he will be involved in their game plan, but my take on him is you should start him. Some of you drafted him, some of you picked him up, but either way he's been taking up a valuable roster spot for a long time now, and you didn't just have him sitting there so you can bench him the week he comes back. I don't know how many catches he gets, but I have a tough time believing he won't score in his first game back. I think they force it to him in the red zone. Plus, won't you just kick yourself if you bench him because you want to see how he does in his first game back and he busts a long one on the fast turf? I don't have him on any of my teams, but if I did I'd risk it with him, this is why you've been hanging on to him for so long.
Coby Fleener vs JAX – How can you not like his value right now? He had a great game last week with Allen going down, and I think he will be there for you once again this week vs Jacksonville. With Ahmad Bradshaw out, those targets can be distributed a bit more and I think Fleener is the beneficiary of a few of them. Trust him for now, and until Allen gets back.
Jimmy Graham vs BAL – This week I like a lot of teams and players to either bounce back or finally show some life in the 2014 season, or I'm quitting them for the rest of the year. Jimmy Graham and the Saints fit right into that. They play
on Monday
night in prime time at home. I honestly cannot see them playing like they have the last few weeks. Brees and Graham have to come alive. His 3 for 29 stat line last week is just unacceptable. I can see him scoring twice this week.
San Francisco vs WAS – This is more on how bad I think Washington is rather than how good the 49er D is. The Redskins have fallen apart and this week's press conferences by RG3 are a good indication of that. This team has no clue as to what is going on and just got blown out by one of the worst teams in the league. Now they have to go across the country to play a San Francisco team who seems to have found its way. If they are available in your league go grab them for this week.
San Diego vs STL – San Diego is only giving up 220 yards passing per game and have been solid at home for most of the year. I just can't see the Rams really doing anything this week after playing the game of their lives to beat the Broncos. This one could get ugly, and I think the Chargers get it together.
Joe Flacco @ NO – Except for the Tampa Bay game, he's been pretty bad on the road. New Orleans will be rocking
on Monday
night and I don't think Flacco gets much done. The Saint defense isn't the best, but at home they are a bit tougher. The Saints are in an absolute must win this week, Flacco will feel the heat.
Jay Cutler vs TB – Lovie Smith makes his way to town to play his old team for the first time. I think he will have Jay's number, who is always good for some turnovers. In a high pressure game vs his old coach and old teammate Josh McCown, I don't see Cutler thriving, he'll fold in a time like this. It seems like a great matchup, but I can see him struggling by trying to do too much.
Lamar Miller @ DEN – Surprisingly Denver gave up over 100 yards rushing to Tre Mason, but no way that happens again this week. Denver is only giving up 73 yards on the ground per game and only 5 touchdowns on the year. Miller had an alright game last week vs a tough Buffalo D, but Denver will be hungry and there won't be much running room here.
Jonas Gray vs DET – I know, I know. He just scored 4 touchdowns, ran for 200 yards, and you just picked him up, so why would I bench him?! You bench him because he is facing a defense that is giving up 68 yard per game. Leading rusher vs them on the year? Steven Jackson in week 8, he went for 60 yards and a touchdown. The Lions run D is stifling, plus, who knows who is going to get all of the carries this week? Belichick never makes it easy on fantasy owners, the only thing you can count on is Gray will not be the leading rusher this week, Belichick will somehow make sure of that.
Kenny Britt @ SD – I'm clearly not buying into the Rams and I am definitely not buying into Shaun Hill. Don't be tempted into chasing the points from last week, those were a season high 7 targets he got. If you want to use him wait until next week when he plays Oakland.
Sammy Watkins vs NYJ – He torched them just four weeks ago for 3-157-1, there's no way Rex Ryan lets that happen again. If they are going to get beat, beat them another way. Who knows when and where this game will even be played because of all that snow. Their routines are broke because of the crazy week and I'm not sure Buffalo will be able to adequately prepare for this game. I wouldn't be starting Watkins when this game finally kicks off.
Delanie Walker @ PHI – The Eagles have been very stingy vs tight ends this year. He's a little banged up from the concussion he suffered and has been up and down all year. If you have a better option, go with him.
Baltimore @ NO – I picked them up in all my leagues for a run in the playoffs, but I'm not using them this week. They have a very tough matchup in New Orleans, even off the bye, I'm not liking their chances. New Orleans has no choice here and must win. I'm benching the Ravens this week before using them in the next 4 (hopefully).