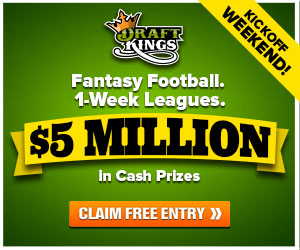 Adam Stoczynski
Bitter Chicago sports fan, wagering enthusiast, self-proclaimed sports expert
@AllAboutSto on twitter
Week 8 is here and we have lots of fantasy impact on prime-time games. The good news for fantasy football owners is the over has been coming in a lot
on Thursday
,
Sunday
, and
Monday
night games. I do mean a lot, over 80% a lot. The total score in these games has gone over 18 of 22 times in 2014, but now that it is public knowledge we are all in for low scoring games, isn't that how it goes? Starting the week off
on Thursday
night is San Diego in Denver. Green Bay is in New Orleans
on Sunday
night, and the week is capped off by Washington in Dallas. A low score in any of these games would be brutal for the fantasy world. Chances are everyone out there will have at least one guy playing in one of these three games. Without even counting defense or kickers, I'm thinking 37 guys could be used in these 3 games. Don't believe me? Check it out.
Thursday
night we're looking at Manning, Hillman, Sanders, the Thomas duo, and Welker if you need him, for Denver. San Diego you will go Rivers, Oliver, Gates, Allen, Royal, and people may even start Green and Floyd in deeper leagues. That's 13 players for
Thursday
night alone. Take a look at
Sunday
night (which we will be "waiting all day" for), Rodgers, Lacy, Cobb, and Nelson are your for sure starts, then Adams and Starks can be used if needed. On the Saints side you will use Brees, Graham, Cooks, Colston, Robinson, Ingram, and even Stills and Cadet (who I may roll the dice on since Reggie Bush is not looking good) if you have to throw a Hail Mary. That's another 14 guys, totaling 27 through two games. Moving on to
Monday
you will go with Morris, Reed, Jackson, Garcon, and maybe Helu from Washington. Romo, Witten, Bryant, Williams, and Murray are all starts from the Cowboys. Add the 10 from
Monday
night to the 27 we already counted… 37. That's 37 guys in 3 games, this should be fun.
Carson Palmer vs PHI – Getting healthy every week and threw two touchdowns once again in week 7. He's a good start at home this week vs a team that has had trouble stopping the pass. This offense is rolling now, and can be trusted going forward.
Nick Foles @ ARI – Palmer's counterpart is also a good play this week. Coming off the bye, I like the Eagles to have the offense on track. Arizona has struggled as well vs the pass. Don't let their performance vs the rookie Carr last week fool you.
Jerick McKinnon @ TB – Finally, the reason you have been holding on to him for weeks. Let this man loose! Had over 100 yards last week vs the best rush defense in the league, imagine what he can do vs one of the worst. He will finally get in the end zone and is a fantasy starter from here on out. Does have some tough matchups in the playoffs, but you can ride him to get you there.
Joique Bell @ ATL (London) – I feel like Bell or Bush are on here every week, but Bell is the guy I like for week 8. Atlanta is miserable vs the run and have given up a league high 13 touchdowns on the ground. To put that into perspective, tied for second most are the Giants and Panthers. Bell may hit pay dirt twice this week. With Calvin still banged up, all of their tight ends hobbled, and Reggie Bush not practicing today (
Thursday
), start Bell, who has very high upside this week. **Reminder** The Detroit and Atlanta game is being played in London and will kick off at
9:30am EST
, so get your lineups set.
Shane Vereen vs CHI – I'm a little upset he had such a big game last week because I love his matchup in week 8. You never know what "Wild Bill" will do as far as game plan with his running backs, but with Ridley done for the season, it looks like Vereen's role will increase. Not only do I like his potential amount of touches, but the matchup he has with the Bears is perfect. The middle of the Bears defense can be exploited and there will be no one to run with him out of the backfield. He could have 10 catches this week.
Mike Evans vs MIN – Now I don't know how much I trust Glennon, but with the bye week to get everything in place I think Tampa should have a productive day at home vs a pretty bad Minnesota defense. With the week off, Evans should finally be healthy and will see targets. Fellow rookie Sammy Watkins gashed the Vikes last week for 8-122-2, I'm not expecting the same production, but I do like Evans' matchup.
Julio Jones vs DET (London) – Start your studs. I know he has been frustrating the last few weeks by not getting a score in 4 weeks now, but he's a little banged up and they need him if they want to win. Atlanta will not be able to run the ball at all vs one of the best defenses in the league. Their only hope is through the air. The o-line is very banged up, they need to feed Julio early and often to have any hope. Plus, I think we'll see a long ball or two to excite the London crowd. **Reminder** The Detroit and Atlanta game is being played in London and will kick off at
9:30 am EST
, so get your lineups set.
Brandon Marshall @ NE – "The squeaky wheel gets the oil," especially when it comes to diva wide receivers. That is basically the reason I like Marshall this week. He has only 1 game with 100 yards this year, and the strength of the Patriots defense is their secondary, but when Marshall cries, he usually gets coddled. Watch Cutler target him a TON this week.
Andre Johnson @ TEN – Stop me if you've heard this before, "The Squeaky wheel gets…" you know how this ends. Fitzpatrick says he is not getting Andre the ball enough, so expect him to get it "enough" this week. Johnson actually has not had less than 7 targets in a game yet this season. We all know touchdowns are hard to come by for him, so I like him for 100 yards this week. He is getting more red zone targets then usually though.
Rob Gronkowski vs CHI – He was on here last week, but only had an alright game and produced 5-68 vs the Jets. Like I said for Vereen, the middle of the field will be open. The linebackers and safeties for the Bears will have their hands full with Gronk. There are very few guys in the league who are big enough and fast enough to stay with him, and none of those guys play for the Bears. He will score this week.
Martellus Bennett @ NE – He hasn't scored in 4 weeks now, but continues to have the targets. Cutler will need to find his big man with the wide outs being covered by a really good secondary. New England is giving up a good amount to tight ends, so the matchup for him is not the worst. Be aware he is banged up, but should not be in any danger of missing the game.
Houston @ TEN – Hopefully they will be getting the 2014 number 1 overall pick back this week, but either way they are facing a rookie who will be making his first career start. If Clowney plays, lookout. The ears will be pinned back for him and Watt. The Titans are at home, which gives them a little hope, but I still like Houston this week as a streamer.
Joe Flacco @ CIN – Before the New England game these Bengals were considered one of the best teams in the league, now they have lost their way. I don't like Flacco this week for the simple reason being I see the Bengals bouncing back with a win this week. He's had two good games in a row, but vs Tampa and Atlanta. With the exception of his 5 touchdown explosion in Tampa Bay, he usually does not play as well on the road. I'd look elsewhere this week.
Blake Bortles vs MIA – I hope none of you are starting Bortles, but if you plan on doing so, find someone else. He has looked pretty brutal the last few weeks and his touchdown to interception ratio is 1:2. He's 5 TD's to 10 int's on the year. Miami's D is also playing well and held the Bears in check last week.
Tre Mason @ KC – There are two teams that have yet to give up a touchdown on the ground this year, Buffalo and Kansas City. Mason looks like he is the back of the future and should be viable for the rest of the year, but he's still in a time share and cannot be trusted this week. The KC run D is pretty good, stay away in week 8.
Anthony Dixon @ NYJ – The Jets have given up some yards on the ground the last few weeks, but to smaller faster guys (Vereen, Hillman). We also don't know what to expect this week as far as playing time goes. The Jets are only giving up 88 yards on the ground, and with Dixon being in a time share, there's just not enough yardage to go around this week.
Alshon Jeffery @ NE – Not sure you have enough depth at WR to bench him, but he only has 2 catches for 9 yards last week. New England is number 1 in the league vs the pass giving up only 208 yards per game through the air. It's a tough matchup on the outside with these strong corners playing man. I like Marshall because of the volume of targets he should get, there may not be enough to go around this week to get Alshon involved as well.
Keenan Allen @ DEN – In week 4 Allen had 10 for 135, in weeks 5-7 he's totaled 12 catches for 110 yards. He's also yet to score this year. Is
Thursday
the night he gets in the end zone? Maybe, but I doubt it. He can't be trusted right now, which stinks because you probably drafted him as your 1 or 2 wr.
Jared Cook @ KC – Did you really think the 4 for 74 in week 6 was a sign of things to come? Despite the win at home vs Seattle this team is bad. They are going to KC where Austin Davis is going to look as bad as he did
on Monday
night vs SF. I wouldn't trust any Ram this week.
Green Bay @ NO – This one is going to be a shootout. Brees has 3 straight games with over 300 yards and 2 touchdowns. The Packers D is not going to be able to slow down the Saints at home. New Orleans really needs this one as well if they want to keep their playoff hopes alive.