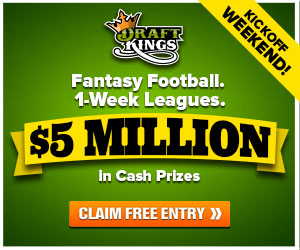 By Adam Stoczynski

@AllAboutSto on Twitter
Woah, didn't get any sleep after that
Thursday
night Larry Donnell fantasy explosion. I was looking pretty foolish after my call to "sit 'em," but in the end everything worked out with lots of good calls before the weekend was up. Can't feel that silly though because Larry Donnell actually sat himself this weekend on his own fantasy team in favor of Vernon Davis. Donnell ended up losing his matchup because Davis only put up a 2 for 8 stat line. It just shows on any given week, any player can really go off. Doesn't matter if you are a NFL player, a fantasy "expert," or far from one, like myself, no one can tell the future, but we can make education predictions based on the specific parameters each one of us goes by.
In no specific order here's what I like to look at when determining who the "correct" play is when I am deciding between similar players and who I may deem as a good call. You have to obviously look at the opponent and see if this is a defense that gives up a lot of points to the specific position. Then you have to take a look at opportunity. Did this player have some plays he just missed on last week? Was he getting targets, touches, or red zone looks? Another thing that goes along with opportunity is his playing situation. A guy I like this week will be alone in his backfield, where usually he is splitting time. He is playing a tough defense, but his touches and playing time will be way up. Especially with quarterbacks, wide receiver, and defense, I like to see if they are at home rather than on the road. For some teams, (New Orleans, Atlanta) it makes a huge difference, but others it does not. When choosing between two guys who are "tied" in who to start, I'd usually lean to the player who is playing at home. The last thing I like to look at is actually kind of silly. It is if the player is playing
on Sunday
or
Monday
night. In fantasy every team gets to start the same amount of guys, so in the long run it really is no advantage, but I just feel a lot better when I have guys playing
on Sunday
or
Monday
night, rather than being the guy holding my opponent off with no players. In my most important league with all of my high school buddies, we call a
Monday
night comeback, "The
Monday
Night Miracle." It's always gut wrenching and fun to watch and has happened a few times already this year. One time was by me with Sproles going off for 27 vs the Colts.
Phillip Rivers vs NYJ – The only quarterback who may be playing better right now is Andy Luck. Rivers is on a tear to start the season and the Jets secondary is very beatable. They will be forced to throw a ton for two reasons. 1. The Jets run defense is one of the best in the league. 2. Donald Brown. There's not much more I need to say on him. You'll see him in the "sit 'em" pile down below.
Nick Foles vs STL – Foles is back on the start 'em list for week 5. He had an awful game last week and the offense didn't even score a touchdown. They are still 3-1 and will bounce back at home vs the Rams. His offensive line gets a tiny bit healthier with his RT returning this week. The Rams gave up a ton to Romo a few weeks ago, and I expect the Eagles to do the same. Stick with Foles from here on out as a QB 1.
Eli Manning vs ATL – Yes, the same guy who started off looking miserable is back. In the last two weeks the Giants seem to finally have a grasp of the offense. Eli had a great game last week throwing for 4 touchdowns and even running 1 in. Atlanta's defense is just all-around awful and this one should be a shootout. The Giants return home, where Eli threw for 234 yards and 2 touchdowns vs the Texans last time there.
Reggie Bush vs BUF – This is the guy I was talking about above in regards to opportunity. Joique Bell is already out for week 5 with a concussion and Theo Riddick is not looking good with a hamstring, leaving Reggie as the lone back in the Lions backfield. Yes, Buffalo is one of the best run stopping defenses in the league, but with close to 30 touches coming, and on the turf, it's only a matter of time before he busts a long one, let's just hope he can withstand the work load.
Zac Stacy @ PHI – The Eagles just gave up 145 yards to Gore and Hyde last week, who have a very similar running style to Stacy. Stacy has been involved a lot in the run game as well as in the passing game. Coming off the bye I think the Rams have realized they need to give this guy the rock in order to win games.
Rashad Jennings vs ATL – Until Atlanta finally stops someone on the ground, I'm going to keep telling you to play running backs against them. It worked last week with Asiatta, and it will work again here. Jennings is playing great and will have another nice day vs this awful run defense. Jennings is a lock for at least one score.
Kelvin Benjamin vs CHI – Carolina gave me a call this week to see if I can suit up at running back for them, that's how desperate they are. They have no choice but to throw the ball this week vs a defense that can be had. Kelvin Benjamin is a must start at this point, and should see well over 10 targets this week. They need him if they want to win, and Cam should be looking for him early and often. I heard this week that the thing the team is most impressed with is the rookie's route running. Should be good for a score for the third week in a row.
Sammy Watkins @ DET – Orton is in for Manuel, which I think is good news for Watkins owners. Orton should provide some consistency here and is probably a better quarterback at this point than EJ is. Orton is a veteran who should know to get the ball to his playmakers hands. I expect them to trail in this game so the targets should be there. Playing on the turf, Watkins has a chance to bust one.
Brandin Cooks/ Marques Colston vs TB – Sometimes teams are just due. At 1-3 and heading back home, New Orleans is one of those teams. We all saw what happened when Tampa played in Atlanta on that blow out of a
Thursday
night game. If the Saints are the team they say they are, they need to make a statement. This week has all the makings of a breakout game for both of these players and finally welcome the Saints to the 2014 season. Cooks has been involves more than Colston, but I like them both because I like
the Saint in general this week, otherwise they are just a team headed for 8-8.
Heath Miller @ JAX – Had a great game last week and finally did what we've been waiting for. Has a great matchup and with the Pittsburgh defense really banged up, Ben and the offense will have to come through. He is Ben's safety net, and should get in the end zone again. In my one league I'm benching my man crush Travis Kelce for Miller this week, that's how much I like him in week 5.
Greg Olsen vs CHI – For the same reason I like Kelvin Benjamin, the Panthers will need to throw this week to move the ball. The Chicago run defense is less than stout, but the Panthers don't have any running backs. Greg Olsen is still Cam's favorite receiver and inside the ten yard line that play action pass always goes to him for a touchdown. He will score this week vs his former team.
San Diego vs NYJ – Geno Smith is going across the country to face a defense that is getting to the quarterback. Came through for us last week and I'm sticking with them in week 5. Geno Smith has no confidence and is just that bad.
Detroit vs BUF – Detroit is at home vs Kyle Orton who is starting for the first time this year. Orton is good for at least one pick and Detroit is good at getting to the quarterback. They also are not giving up much on the ground. Good team to stream this week.
New England vs CIN – Now this may shock some of you, well actually, all of you, but it is more of a hunch play that I'm going with. New England is my defense on one of fantasy teams and I'm not giving up on them yet. After getting absolutely blown out
on Monday
night, everyone is counting Brady and Belichick out, but this is the ultimate test to prove they are still the Patriots. They get a second chance on prime time tv and they play an undefeated team. I believe in the Patriot way and think they bounce back at home big time, if not, the defense will be droppable, the rest of the Pats are benchable, and this article will probably not be readable. This Defense still has some big names on it and Brandon Browner will make his Patriots debut after returning from his 4 game suspension. Is it risky? Yes. It is stupid? Probably. But I'm sticking with the Pats, because I think they come out and do what they do
on Sunday
night.
Kirk Cousins vs SEA – He's not as good as his play vs the Eagles and he's not as bad as his
Thursday
night performance vs the Giants, but he has Seattle this week, I'd look elsewhere. Clearly not the best matchup vs the reigning Super Bowl Champs.
On Monday
night, coming off the bye, Seattle will be ready to go.
Alex Smith @ SF – Everyone is adding him after the great game
on Monday
night, but he's heading to San Francisco and there's no way this team plays that good again. Look for them to come out flat after the huge
Monday
night win. He's a shaky play in the first place and in San Fran, I'll pass.
Geno Smith @ SD – If you are starting Smith, chances are you have bigger problems anyways. He's the reason I like the San Diego D so much this week. He has no weapons and is just not playing well. They need to run the ball to win, not let Geno air it out.
Donald Brown vs NYJ – The Jets are one of the best run defenses in the league and Donald Brown has to be one of the worst starting running backs in the league. He had 10 carries last week for only 19 yards vs Jacksonville, imagine what his stat line is going to be vs a good defense. Branden Oliver will also cut into his playing time. If you are relying on Brown to start for you this week, you need to find another option.
Steven Jackson @ NYG – The Giants have actually been okay vs the run, giving up 101 yards a game, good for 10th best in the league. Atlanta has to see the speed of Antone Smith and start using him more. It's actually a pretty crowded backfield with 4 guys getting playing time and Jackson is old and slow. He should go down any week now from an injury. Atlanta's pass happy offense will do the damage this week with minimal touches going to Jackson. Even though he had 13 carries last week, I'd stay away.
Trent Richardson vs BAL – He's actually been playing pretty good, but runs into Baltimore's defense who seems to be back. They are only giving up 82 yards a game on the ground, and have given up only 2 touchdowns. Tough matchup for him here and splitting carries with Bradshaw, who is having a rejuvenated season.
Eric Decker @ SD – Still banged up and is on the road with Geno Smith throwing to him. The offense does not look good right now, and the Chargers D is playing very well. Not someone I would use this week, and not sure how reliable he will be moving forward.
Cordarrelle Patterson @ GB – It pains me to have Patterson on my sit list, but it has to be done. I'm not sure what they are doing over there, but since Peterson went out, Patterson has been missing from the offense as well. As their best playmaker this guys should be getting 12-15 touches per game, but for some reason after the week one break out of him taking carries, getting screens, and forcing him the ball, they have gone completely away from him. He has only 6 catches on 9 targets in the last two week. It's looking like Ponder is going to get the start, and they are saying this game is going to be played in the rain. Those two combinations, plus it's a
Thursday
night game; he has to be on your bench until they get back to using him how they should.
Justin Hunter/ Kendall Wright vs CLE – Sounds like Locker is playing this week, but vs a pretty good defense, I would continue to stay away from both of these guys until they show us something. Delanie Walker is the number one target right now, and with quarterbacks that are only looking to check down, it's going to continue to be that way.
Zach Ertz vs STL – Not getting the targets we all thought he would be. Playing at home vs the Rams, he does have a chance to score, but he's hard to trust right now. Only 4 catches last week and 2 the week before. Find a better option this week until he proves we can trust him again.
Jason Witten vs HOU – He's yet to score a touchdown this year and has not been involved like he has been in the past. Dallas is coming off the bus running leaving few opportunities for Witten. Targets just haven't been there and Houston has been pretty good vs tight ends.
Arizona @ DEN – Arizona is a formidable fantasy defense with a great return game, but they are playing in Denver so I would expect them to struggle a bit. Denver is coming off a loss and a bye, I think they will have their stuff together. Just a bad spot for a good team. I would keep them on your roster and try streaming another team D for week 5.