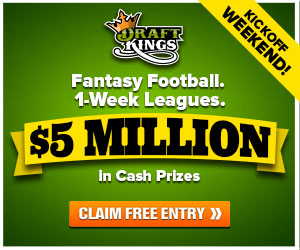 Its week 5 in the NFL and after the first quarter of the season it's still hard to determine whose a stud and who's a dud. This season seemingly is unlike any I can remember. So many teams are week to week hot and cold. Last week I suggested Eli Manning, Larry Donnell, Mike Glennon and Eddie Royal. All had exceptional games and should continue to be added in all formats (all are currently less than 50% owned). This week the only teams on bye are the Dolphins and the Raiders, deservedly so, since they both played in a real ugly game in London last Sunday. Since neither team has top flight fantasy players, this week's waiver wire will be mainly players with break out potential not necessarily bye week substitutes. Below I'll list potential players by position, current espn ownership and their week 5 opponent.
Teddy Bridgewater: 10% ownership, wk5 @ Packers
An athletic, playmaking quarterback who makes wise decisions (obviously not Matt Cassell). Teddy can be the Vikings bridge over troubled water in the wake of the Adrian Peterson scandal. Bridgewater can also make the Vikings "his team" in Peterson's absence. Last week the Bridgewater era began with his first career start versus the Falcons. Going 19 of 30 for 317 yards along with 5 rushes for 27 yards and a touchdown. Bridgewater secured his first win in the NFL with a 41 to 28 handling of the Falcons. This week versus the Packers Bridgewater will continue to lead the Vikings offense in an attempt to upset the Packers a familiar divisional foe. Add Bridgewater if you're in need at QB or to stash on your bench for continued break out potential.
Blake Bortles: 4.6% ownership, wk5 vs Steelers
The Rookie has looked good when given the opportunity especially last week versus the Chargers in San Diego. On the road Bortles went 29 of 37 for 253 yards and a touchdown. He was impressive and confident on the field but his two interceptions were evidence that he is a rookie. The Jaguars definitely needed something to get momentum going and last week Bortles gave the offense a spark. The lack of a running game will make it tough for Bortles to operate a balanced offense. Once Blake gets the passing game going it will open the entire offense, especially the run since defenses will no longer be able to constantly stack the box. Bortles can now show us why he was the first QB taken in the draft. Add Bortles for continued break out potential.
Austin Davis: .6% owned, wk5 @ Eagles
Second year quarterback Austin Davis from Southern Mississippi was thrust into the starting position after Sam Bradford and Shaun Hill were both injured. While it never sounds promising to be rolling out your third string quarterback in week 1, Davis has been an exception. In week 2 Davis got the start on the road in Tampa bay and led the Rams to a victory. Week 3 was Davis's breakout with 327 yards and 3 touchdowns with 2 interceptions versus the Cowboys. His recent performance will make the Rams coaching staff consider sticking with Davis as the starter even with a healthy Shaun Hill. Davis has showed enough potential and playmaking ability to keep the Rams competitive going forward. Shaun Hill only offers so much on the field and is better suited as the backup. Add Davis for bye week depth and future breakout potential.
Jerick McKinnon: .8% ownership, wk5 @ Packers
While Matt Asiata is the current starter Jerick McKinnon is the future. At 209lbs with great speed (4.41/40 at NFL combine) McKinnon has tremendous upside. This season he will continue to be a part of the Vikings backfield since his playmaking ability is something Matt Asiata lacks. Even as a change of pace back he has the potential to break long runs and score touchdowns. Last week versus the Falcons Jerick had 18 carries for 135 yards along with one reception for 17 yards. As the season progresses McKinnon will eat into Asiata's carries and may become the main back by seasons end. Add McKinnon for future break out potential.
Isiah Crowell: 5.6% ownership, wk5 @ Titans
Mark my words Crowell may become one of the best undrafted players in recent years. Crowell was highly recruited out of high school and was the nation's top running back prospect according to Scouts.com. Isiah choose to attend Georgia over Alabama and went on to become the SEC freshman of the year ahead of Jadeveon Clowney. Shortly after Crowell got into some trouble at Georgia and was dismissed from the team. Isiah got a second chance at Alabama State and played well there the next two seasons amassing 1964 yards on 329 carries and 30 touchdowns. Week 5 is the scheduled return of Browns running back Ben Tate. Now both Isiah Crowell and Terrance West will be considered Tate's backups. Even as a backup Crowell can make an impact. Browns coach Mike Pettine has stated he will play the hot hand so this bodes well for both Crowell and West if Tate gets off to a slow start. I'm a big Terrance West fan but I couldn't help but notice Isiah Crowell out performing him in the weeks leading up to their bye. Add Crowell for continued break out potential and as Ben Tate's handcuff.
Justin Forsett: 9.1% ownership Wk5 @ Colts
The Ravens backfield is kind of a guessing game. With three running backs getting carries it's hard to know who's going to get the touches. I really like what Forsett and Taliaferro did without Bernard Pierce's help last week with 29 carries for 124 yards and 2 touchdowns. Forsett added 31 yards receiving to his 66yards rushing and is maintaining a 5.8 yard per carry average on the season. Forsett's experience and pass catching ability has him highest on the Ravens depth chart. Add Forsett this week for the match up play. The Colts defense isn't very good and Forsett will have another big week.
Marvin Jones: .8% ownership wk5 @ Patriots
Week 5 is scheduled as the return of Marvin Jones to the Bengals line up. He's a big receiver with elite hands who gets plenty of targets opposite of AJ Green. Not only does Jones make highlight catches ha also produced 10 touchdowns last season. This is a sneaky add since some people will not realize he's ready to return to action. Add Jones for wide receiver depth with possible flex/starter potential.
Jarius Wright: .2% ownership wk5 @ Packers
Vikings Wide receiver Jarius Wright had a break out game last week versus the Falcons. Wright was the go to guy for Vikings quarterback Teddy Bridgewater. It's no coincidence though as they both worked together on the second unit since the beginning of the season. The chemistry they create was evident when Bridgewater targeted Wright 10 times for 8 receptions and 132 yards last Sunday. If Wright remains the favorite target he will be in for some big games this season. Add Wright for depth and in hopes of continued growth with Teddy Bridgewater.
Allen Hurns: 7.3% ownership, wk5 vs Steelers
Another undrafted break out rookie, Hurns is on pace for over 1000 yards receiving and 12 touchdowns on the season. A tall receiver at 6'3" he provides a big target for quarterback Blake Bortles. Looking at his season stats, Hurns seems to have a big game every other week. Week 5 is his "big game" week if the pattern is to continue. Also the Steelers defense will make it that much easier for him to succeed. Add Hurns this week for scoring potential.
Heath Miller: 12.7% ownership, wk5 @ Jaguars
Miller is finally healthy and ready to have a big year. Last week Miller had 10 catches and touchdown versus the Buccaneers. Miller is one of Big Ben's favorite targets especially when under pressure. The Jaguars are last versus the pass so add and start Miller with confidence.
Austin Seferian Jenkins: .5% ownership, wk5 @ Saints
A big athletic tight end in the Jimmy Graham mold. Seferian Jenkins is healthy and looking to build chemistry with new quarterback Mike Glennon. Last season Glennon targeted his tight end Timothy Wright frequently. That should mean plenty of looks for Serferian Jenkins this season since Wright is now a Patriot. One difference is Seferian Jenkins upside is triple that of Timothy Wright. Sign ASJ as a potential starter quality tight end at a value price.
Clay Harbor: 0% owned, wk5 vs Steelers
Its apparent Blake Bortles likes to target his tight ends. In Harbor's first game back from a calf injury he was targeted eight times making all eight catches for 69 yards. Once the Jaguars get into the red zone look for Harbor to be targeted. He's a big target who can create mismatches with defenders while making catches with his soft hands. Add Harbor as a starter worthy tight end in week 5 versus the Steelers beat up defense.