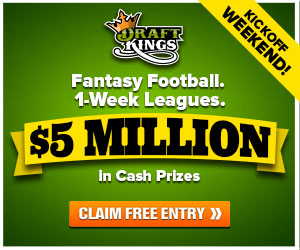 Week 4 in the NFL brings us to the season's first bye week. This week the Cardinals, Bengals, Browns, Broncos, Seahawks and Rams are all on their bye. While drafting your fantasy team you should've been aware of the bye weeks in the schedule. If you're like me this season and didn't cover your bye weeks very well, these waiver wire acquisitions will help. Below are current waiver wire recommendations that I will list by position, current espn ownership percentage and their week 4 opponent.
Eli Manning: 35.5% ownership, wk4 @ Redskins
It wasn't long ago Eli Manning was nearing elite quarterback status. 2013 was a disaster for Manning (3818yds, 2tds, 27ints and a 69.4 QBR), and talks went from elite to possible retirement (by his choice or not). This season will determine Eli's future as a viable quarterback option. While Manning has started slowly through the first 2 weeks, last week's performance was promising (234yds, 2tds, 0 ints). This week the Giants will be in Washington playing the Redskins. The Redskins mediocre defense and new found efficient offense should provide Eli plenty of opportunities to fill the stat column, hopefully not with interceptions. Eli Manning is a great substitute this week if your QB is on a bye. Manning also could be added as a qb2 with hopes of continued improvement.
EJ Manuel: 7.7% ownership, wk4 @ Texans
Heading into week 3 the Bills were one of the NFL's biggest surprises at 2-0. With wins over the Bears and Dolphins, Buffalo was looking ready to challenge the Patriots for the division crown. A large part of their success was due to EJ Manuel's steady play and leadership. While not known as a gunslinger, Manuel can score fantasy points. After last week's loss to the Chargers expect EJ and the Bills to bounce back this week when they face a dinged up Texans team. The Texans secondary will give Manuel plenty of opportunity to throw the ball. JJ Watt will be stalking the quarterback all day, but with EJ's mobility and quick release there should be enough time to make plays. Add EJ Manuel for a bye week fill in and nothing more.
Mike Glennon: .2% ownership, wk4 @ Steelers
Back as the starter Glennon should re-ignite the Buccaneers passing attack. A strong armed quarterback who can read a defense and make most throws. His chemistry with Vincent Jackson will be a welcome addition to the struggling offense. Glennon isn't afraid to challenge defenses down the field. When McCown is able to return I expect Glennon to have fully secured his job. I'm all in on this one and hope it's enough to turn the Buccaneers season around. Add Glennon for a bye week replacement with enough upside to be considered down the road.
Lorenzo Taliaferro: .4% ownership, wk4 vs Panthers
Even when Bernard Pierce returns to health expect Taliaferro to remain a factor in the Ravens backfield. His combination of quickness and power is unlike both Pierce and Forsett. A fourth round rookie from Costal Carolina Taliaferro flashed this preseason and again last week (18 carries, 91yds, 1td). Add Taliaferro for running back depth and watch as the Ravens depth chart pans out.
Alfred Blue: 3.4% ownership, wk4 vs Bills
It's a fact that Arian Foster has a history of hamstring issues. So when it re-occurred this season I wasn't really surprised. Foster's hamstring has created the opportunity Alfred Blue has hoped for. Blue is a big back (6'2", 223lbs) with an all-around skill set who can run through or around defenders. While Foster is considered to be day to day, I would expect Blue to get some starts this season and have work on third downs when Foster is healthy. Add Blue for running back depth in case of a Foster injury or as a handcuff for Foster owners.
BenJarvis Green-Ellis: 1.8% ownership, free agent
Already this year several teams need help at the running back position. Injuries and suspensions have left some teams thin. Multiple reports have stated several teams expressing interest in Green-Ellis (Vikings, Ravens, and Browns). The connection to Minnesota seems the strongest with Adrian Peterson out indefinitely and former Bengals defensive coordinator Mike Zimmer now the Viking's head coach. First BenJarvis must be cleared from a hip injury he suffered this preseason before any team will sign him. Reports are that he is close to being game ready. Add Green-Ellis for potential RB1 value and wait to see where he lands.
John Brown: 1.5% ownership, wk4 BYE
The Cardinals rookie wide receiver from Pittsburgh state was the sensation of Cardinals training camp. His start to the season has been equally impressive after scoring three touchdowns in three games. Brown plays in place of the departed Andre Roberts who left via free agency. Brown's targets should increase with the return of Carson Palmer and so should his yardage totals. John Brown is a nice add for depth at WR or for insurance for Michael Floyd owners.
Eddie Royal: 3.1% ownership, wk4 vs Jaguars
As you may already know Eddie Royal has done this before. In seasons past Royal has had a break out week only to disappear back into oblivion a week later. This season will be different for Royal. His routes underneath the secondary create problems for opposing defenses, just ask the Seahawks about week 2. Royal's speed is hard for linebackers to cover and creates constant mismatches. Now that Danny Woodhead is out for the season the door is open for Royal to be the weekly underneath target in the Chargers offense. Add Royal for WR depth and as a solid flex play during the bye weeks.
Jordan Matthews: 2.9% ownership, wk4 @ 49ers
A second cousin to hall of famer Jerry Rice, Jordan Matthews displays a similar athletic grace when running routes and catching balls. In the Eagles high powered offense Matthews fills a need left by the Desean Jackson departure. Last week versus the Redskins Matthews had a break-out game with 8 catches for 59 yards and 2 touchdowns. Matthew's role will expand as his confidence increases and he builds more rapport with Eagles qb Nick Foles. Add Matthews for WR depth and continued break-out potential.
Larry Donnell: 3.4% ownership, wk4 @ Redskins
The Giants traditionally like to involve their tight end. Donnell has been Eli Manning's 3
rd
favorite target behind Victor Cruz and Rueben Randle. Donnell is a big target with good hands and has already earned the trust of Eli Manning receiving 18 receptions in 3 games.
Andrew Quarless: 1% ownership, wk4 @ Bears
Last week Quarless had 4 catches on 5 targets and a touchdown in the loss to the Lions. It's nice to see Aaron Rodgers have an athletic tight end to target again. Quarless has the most experience with Rodgers and the Packers offense of the three tight end options in Green Bay.
Coby Fleener: 15.3% ownership wk4 vs Titans
While the Colts have two good quality options at tight end I prefer Coby Fleener. With great hands and a long history with quarterback Andrew Luck going back to Stanford.
Coby had 7 targets last week hauling in 4 of them for 43 yards and a touchdown. Now that Fleener has gotten more involved I expect him to remain a part of the passing game especially in the red zone.