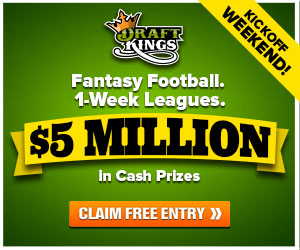 By Adam Stoczynski


Week 4 is a brutal one as far as mainstream teams taking some vacation time. With a lot of good players off, here's some plug-ins who I suggest starting if you got 'em, because I'm notbuying it if you tell me you are not affected by the bye week… get it? Overall, this week should be a pretty high scoring one. The games that were set up for us to reap the fantasy benefits last week didn't produce as many points as we thought they would. There were also a lot of touchdowns in week 3 that didn't help a single fantasy team out there (Hester, McKnight, Helu, Kendricks). There are 13 games slated for week 4, and there is not a matchup that really scares me. Outside of the obvious low end quarterbacks, it was actually pretty tough to find players I don't like this week. I expect higher scoring NFL games this week, which obviously means more fantasy points. Hopefully we are all on the right side of those high scores, well, hope my teams are at least…
Colin Kaepernick vs Phi – Not only because he is on one of my teams. He's started off hot every week, but cools down as the game progresses. I expect that to change this week as we seem to be seeing a different 49er team. The defense is subpar and instead of coming off the bus running, the offense is tossing it all over the field. The Philly D has not been impressive either. They have given up at least 2 touchdowns through the air in every week so far. Expect a multi-touchdown game, and if we're lucky, maybe he even runs one in.
Cam Newton @ Balt – The matchup is not the best for him playing in Baltimore, but I think he benefits from his situation. No Tolbert or Stewart this week to vulture a goal line carry, so expect him to get at least one on the ground this week. With only Deangelo Williams in the backfield, he's going to lean heavily on Olsen and Benjamin in order to move the ball. A good game fantasy wise for Newton should finally be in order this week.
Teddy Bridgewater vs Atl – Now I don't necessarily
like
Bridgewater as a starter, but on a week where Manning is on bye and you are in a pinch, I like Teddy the best on all of the rookies who are starting this week (Carr, Bortles). Teddy can rack up some rushing yards and he has Patterson, who the Vikings need to get the ball to if they want to win. Atlanta's defense is nothing special and after the performance they had
on Thursday
night in front of the world, it's only natural they come back down to earth this week.
Fred Jackson/CJ Spiller @ Hou – I like both Bills running backs this week vs a defense who just got absolutely torched by Rashad Jennings last week. They are giving up 125 yds per game to running backs and the Bills need to run the ball to win. Fred Jackson should be a lock to get in the end zone and this is the perfect week for CJ Spiller to finally break out.
Matt Asiata vs Atl – With Kyle Rudolph out 6 weeks and a rookie quarterback, Asiata should be in line to get a lot of touches this week. The Atlanta run defense has been pretty bad so he has a chance here. Last week everyone loved Bobby Rainey, and at the end of the day he didn't have the worst game in that
Thursday
night blowout (41 yards on the ground, 7 rec for 64). Expect a little better stat line with a touchdown mixed in for Asiata.
Pierre Thomas @ Dal – The expected high scoring game between Green Bay and Detroit last week did not pan out, but this week the Dallas New Orleans game should produce a lot of fantasy points. Pierre Thomas can be leaned on as a RB2 this week. Dallas has been less than stingy in the run game and gave up 5 catches for 54 yards to Zac Stacy last week. Thomas should total 100 total yards this week, and keep in mind Mark Ingram is out again. Thomas did score from the 1 yard line in week 3 without Ingram there.
Lamar Miller @ Oak – He had a good game last week totaling 108 yards on the ground, but failed to get in the end zone. Not many other options here with Moreno out and the incompetent Damien Williams and Daniel Thomas behind him. Also a lot of speculation with Tannehill this week, so Miller should be involved a lot. We've been waiting a long time for him to finally be reliable in fantasy, use him this week as Moreno is expected back sooner than originally thought.
Markus Wheaton vs TB – Did you watch the game
Thursday
? Tampa couldn't stop an 8
th
grade flag football team through the air in week 3. This week should be no different as Pittsburgh is going to rely on their offense more than ever. Tough losses on defensive side of the ball will force Ben to score more. They will rely heavy on the run game, but Wheaton is a nice play here as he has been involved the first few weeks. He actually scored last week, but it was called back.
Brandin Cooks @ Dal – He's being used a lot and Brees trusts him. This Dallas team is not going to stop the Saints who are on a mission to get back to .500. Colston is nowhere to be found, and looks to be the number one target at wide receiver. This should be a high scoring affair and could score for the first time since week 1.
Michael Crabtree vs Phil – I love Kapernick this week, so have to love his number one target. Has 11 balls thrown his way last week and he caught 10 of them. Philly can't stop anyone through the air so Crabtree is due to blow up. Use him with confidence, he could win you this week.
Travis Kelce vs NE – I have him on all three of my teams and this is the week I've been waiting for. I've started him sparingly, but week 4 is THE week. His favorite player is Gronk. He plays like him, he measures up very similar in terms of size and weight, and he wears 87.
On Monday
night with the whole world watching he plays vs Gronk and the Patriots. I love him this week, and if he's still available in your league, pick him up and start him. KC has to deploy him, he's their best playmaking option outside of Charles. Only 4 targets last week, but he scored and is playing more and more each week.
Heath Miller vs TB – Tampa hasn't stopped anyone and I expect a big game from the Steeler offense. They may not be able to stop anyone with the injuries, so Ben will rely on all of his weapons moving forward. Miller should get in the end zone this week and finally put up a week worthy of a starting fantasy tight end.
San Diego vs Jax – This one is not tough. Jacksonville has been the prey for defenses all year so far. The rookie in his first start is traveling to the west coast to take on a playoff team from last year. If they are still available in your league, pick them up and start them.
Ryan Tannehill @ Oak – On the road in the black hole, not a good matchup as they aren't giving up the world through the air. He's had a rough week with the whole not being named the started, but being the starter debacle. His confidence seems to be shot, so I'm looking elsewhere if I need a spot start this week.
EJ Manuel @ Hou – EJ on the road is not a good option. They are going to establish the run vs this awful run D and the Houston pass rush should also get to him when he does drop back. Manuel is not a starting fantasy QB, especially this week.
Geno Smith vs Det – Did you see how Detroit was able to contain Rodgers last week? Yea, he's a lot better than Geno Smith is and he has better weapons. Smith is just not a good quarterback and this defense is pretty dang good. The pass rush is going to get him panicked, and a few interceptions are in the cards this week. He may even be losing some confidence as some people were asking if he should be benched after his week 3 performance.
Joique Bell @ NYJ – He's a little banged up and this front seven is stifling. Not giving up much at the line of scrimmage and Bell hasn't been running well himself. I would shy away from him this week since he's not doing much, and he splits touches.
Any Baltimore Raven Running Back vs Car – I know the Panthers got steam rolled by Blount and Bell last week, but this defense will be angry and bounce back. The situation is also just too hazy with three running backs possibly getting carries. I'd stay away from all three as this is going to be a guessing game on who will get the most touches. Bad matchup and even worse situation, stay away.
Rashad Jennings @ Wash – This is more of an owner beware, because chances are you don't have a better option than Jennings this week. I know you will be hesitant, especially with the monster game in week 3, but this Washington run defense is no joke. They just held Shady McCoy to 22 yards on 20 attempts. Not as impressive, but they also held Toby Gerhart to 8 yards on 7 carries in week two. Jennings will still get his touches, but don't expect the week winning performance he put up last week. If you have a player in a better matchup I'd gamble his way.
Greg Jennings vs Atl – He was involved last week and they are down an option with Rudolph out. Still, I don't like him this week with Bridgewater making his first start. It's going to be a lot of running and a lot of Cordarelle Patterson, they have no choice. Atlanta hasn't given up much to receivers the last few weeks and seem to be more vulnerable to running backs out of the back field (5-79 in week 2 for Gio Bernard, and 7-64 in week 3 for Bobby Rainey).
Roddy White @ Minnesota – Atlanta put up a lot of points in week 3, which only means they have to come back down to earth in week 4 right? They are a different team in that dome, and Matt Ryan is a different quarterback, but this week they are on the road. He was banged up last year, and did not play well when he was. He was limited this week, so expect him to be a step slow
on Sunday
. I'd look for another option.
Kendall Wright @ Ind – Got 10 targets last week, but just not doing anything with them. Locker is banged up and not playing well. I also would not trust Charlie Whitehurst if he has to go for the Titans. The Titans should have to throw in this game, but Vontae Davis is out there patrolling. It's disappointing, but Wright is someone you can't trust at the moment.
Charles Clay @ Oak – I don't want any Dolphin this week who is not named Lamar Miller. Lots of question marks currently circling Tannehill, and Clay only has 52 yards total the last two weeks. Not someone I want as my starting tight end at the moment.
Larry Donnell @ Wash – He was everyone's waiver wire darling last week and he had an alright game with 6 catches for 45 yards. On the road
on Thursday
night vs a good defense, I would look elsewhere. The Giants seem to be playing better, but I don't want to trust him this week. He will be good moving forward and I know tight end is this with Rudolph and Pitta going down last week, but week 4 is not the week for Larry.
Pittsburgh vs TB – I know the performance was pitiful for the Bucs last week, but with Glennon starting at home, I don't expect it to be that bad again. The Steelers just lost their 3 best players due to injury and James Harrison is not their savior. They are droppable at the moment, at least until Shazier and Jones are back as starters.