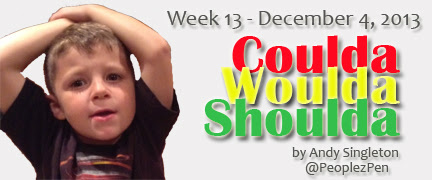 I hope everyone had a happy and safe Thanksgiving. I also hope the new content featured on the site has been entertaining and beneficial. Keep on the look out for more, as the expansion continues. We have now reached the Playoffs in Fantasy Football! Congratulations to those who are still in the thick of things. This is what you have played all year for, and it is also the most stressful time. Embrace the chance to compete for the grand prize, but don't beat yourself up too much if your team falls short. Thanks for continuing to be a reader of this weekly, and a hearty Welcome to those of you stopping by for the first time. I hope the following can bring you some insight and success this week!
Quarterbacks
There were a total of nine Quarterbacks who threw for over 300 yards this past week, ten if you include Alex Smith and his 293. Some of the expected names were of course on this list, Peyton Manning (403), Tom Brady (371), Matt Stafford (330), Matt Ryan (311), and Russell Wilson (310), but did you expect Brandon Weeden (370), Josh McCown (355), or Ryan Tannehill (331) to also be there? The fact remains this is predominantly a passing league, and there is available talent at the position. If you find yourself in a personal debate for whom to start, because you do not have one of the elite, there is a glimmer of hope. Of the guys you might not trust, I would look at the entire team and not focus so much on the opposition. While Ryan Tannehill is vastly improved, and is a building block for the Dolphins, I do not trust the consistency of his receivers enough to rely on him. Conversely, and I know this sounds crazy given his reputation, I would feel more comfortable right now with Brandon Weeden, who has Josh Gordon running routes. Setting an NFL record of back to back 200+ receiving yard games is nothing to sneeze at, and Weeden has been the one finding him. Also throw in the fact that Jordan Cameron is still lining up and is more than capable, and you have the potential for solid production to finish the season. Josh McCown is another player who has been proving his worth, and having Brandon Marshall and Alshon Jeffrey as weapons is a big reason why. To have made it to this level you have to be competent. Obviously, some make better with their chances than others, but think about who they are throwing to more than who they are playing against.
Suggested Play, Matt McGloin: 255 yards passing, 0 TD/1 INTSuggested Pass, Alex Smith: 293 yards passing, 2 TD/1 INT
Running Backs
The new trend in drafting has been to stockpile receivers, and pay less attention to running backs. If you don't get one of the top few rushers, wait until the later rounds for the gamble picks. While I have pointed out this is a passing league, it is still the running back position that can make or break your team. Outside of a handful of running backs, and even some times with them, each week is like a game of Russian roulette. There is not too much available to add that could provide enough of an impact to make a difference. You are what you are at this point, but you should be proud, you still made it to the Playoffs. Ben Tate's performance of 102 yards on the ground with 3 Touchdowns made many of his owners smile, for it had been a long time coming. At the same time he promptly put a damper on Dennis Johnson being a viable option at this point. Bobby Rainey (63 yards) is still proving to be reliable as a compliment to your RB1, as is BenJarvus Green-Ellis (92-1), who isn't eye-popping, just productive. CJ Spiller (149-1) showed again why you HAVE to keep him in your lineup, even if he does disappoint from time to time. He is just that explosive and can make a huge difference on any given play. The most intriguing play is Montee Ball (117), who was drafted by Denver to be featured. Knowshown Moreno has been banged up, and given chances against the Chiefs was unable to do much in the ground game. Ball more than guaranteed he will get another opportunity to show his performance was for real. The name of the game is opportunity, and Ball has emerged as a potential difference maker in the role of RB2 of Flex.
Suggested Play, Andre Brown: 35 rushing yards, 2 TD's.Suggested Pass, Benny Cunningham: 16 rushing yards, 0 TD.
Wide Receivers
If you are searching for a starting receiver at this point, I will tell you now there is no one out there worth picking up. Some will argue that Junior Hemmingway (3-42-1) has a chance in the Chiefs new expanded offense, and he does, just not enough to pin your post-season on. The same is true of everyone else who may be on your scout team. Ride what has gotten you to this point. I am talking about the Keenan Allen, Harry Douglass, Riley Cooper, and Jarrett Boykin's of the world. Yes even Boykin, despite his doughnut on Thanksgiving. They have earned the chance to get you to the next round, and if they fail (as Boykin did), keep in mind you most likely would not even be in the playoffs without them. Is what I am saying fairly obvious? Of course it is. But it is also to remind you not to overthink things too much. There are no secret weapons to deploy, and forget about drawing up that masterful "Annexation of Puerto Rico" play a la Little Giants. Your team is set, now sit back and let them go battle for you.
Suggested Play, Jarrett Boykin: 0 receptions for 0 yards.Suggested Pass, Mike Wallace: 7 receptions for 82 yards, 1 TD.
Tight Ends
As with the other positions, the same is true of the Tight Ends. No new Julius Thomas or Jordan Reeds have emerged. Although with both of them banged up and questionable, their backups (Jacob Tamme and Logan Paulsen) might be worth taking a look at. If you are really desperate for a Tight End, or are severely lacking trust for whoever you have, I would look at who is getting the most targets. Again, it all comes back to opportunity. Zach Miller (8 targets), Garrett Graham (11), Zach Ertz (6), Ladarius Green (6), John Carlson (6), and Scott Chandler (6) are all guys who should be available in your league as free agents. Graham may not be, but of the others listed, I would recommend Green above the rest. He has now scored in two straight games, and has at least five targets in three straight. A capable quarterback, coupled with a pass first offense, contributes to him being able to maintain his current streak. Outside of Jimmy Graham and Rob Gronkowski, the position has put up minimal numbers to your total score. Better to get something, as opposed to going for the home run and getting zero.
Suggested Play, Rob Housler: 3 receptions for 21 yards.Suggested Pass, Timothy Wright: 2 receptions for 17 yards.
Play 'Em
/
Pass 'Em
I take heat for some of the guys who appear on this list, but more often than not they are accurate. It is a hypothesis, not an exact science. I will remind you: It is always better when I am asked to choose between specific players. Randomly picking guys from a roster that includes the entire league does not completely paint the picture for your individual team. You can do this by leaving your question in the comment section, emailing me at
PeoplezPerspective@gmail.com

,

or asking on Twitter. There are no bye's
remaining this season. Here are some of the guys I do and do not like...
Quarterback
Play 'Em
:
Josh McCown, CHI
(vs DAL) As I wrote, he has arguably the best receiving corps in the entire league, and takes on a woefully vulnerable passing defense.
Pass 'Em
:
Russell Wilson, SEA
(@ SF) The division title is up for grabs in this heated rivalry. As great as Wilson just looked on MNF, is as bad as the Niners D can shut him down.
Running Back
Play 'Em
:
Danny Woodhead/Ryan Matthews, SD
(vs NYG) Both backs have been steady all season, and have remained healthy. The Giants haven't stopped many all year.
Pass 'Em
:
Rashard Mendenhall, ARI
(vs STL) St. Louis is better than credited for, and Mendenhall has lost at least one step in his game. This could be ugly.
Wide Receiver
Play 'Em
:
Dwayne Bowe, KC
(@ WAS) I've stuck by him all year, and I will not stop now. Especially since the playbook in KC has been opened up to be more vertical.
Pass 'Em
:
Nate Washington, TEN
(@ DEN) I think the Titans will struggle against a tough Broncos team in the Mile High City. Washington will be limited and may go un-seen.
Tight End
Play 'Em
:
Ladarius Green, SD
(vs NYG) The targets have been increasing, and he has scored in two straight. Who better to draw as an opponent than the deflated G-Men.
Pass 'Em
:
Jared Cook, STL
(@ ARI) Arizona will fight to remain in Playoff contention and will be in Playoff mode. Cook can disappear, and may get lost in the desert.
Follow Andy Singleton on Twitter!
Follow @PeoplezPen
Thanks again for the continued and growing support! If you are a
Facebook
user, please "Like" the new page. If you like the column, please refer a friend - it will make the world a better place. Have a great week and good luck in your games!